English Day :)
ASSALAMUALAIKUM!
*Gambar xde motif.. saje2 letak >.<
isnin lepas3..

*x ingt tarikh

, mktb sy adekan english day..dh nme nye english day, of course lah sehari je kan?..jd,sy join Spell-It-Right.. just for fun bak kate org.. lagipon bkannye mslh sngt.. tulis nme, then..join je.. klau menang,rezeki.. klau x, xde rezeki la tuu..hehe.. motif utame join sbenr nye nk asah keyakinan diri.. sbb before, x prnah join competition individual cmni.. eh?? ntah laa.. lupe kot.. well, pertndingan ni diadekan dlm satu klas form 3.. jd x heran la kan? dlm kelas tu ade 3 org je *termasuk sy.. kan dh ckp individual.. 2 org akak yg jage..
sorg tu f2,sorg lg f4.. due2 ahli YMEC..

ohh3,, YMEC tu ape??
Ymec tu..
シ
Yes,my english committee
シ
organisasi english..
hummm,, whatever la.. yg penting..mse tgh queue up, mmg berdedar gile3 lahh.. malam tu x practise langsung..yelahh..kate just for fun.. jd kite just doa n tawakkal..

*xde usaha bodoh jugk kan??

huhhh..

lastly, sy x menang.. but, buat ape nk sedih?? aslkan fun..

*fun laa sgt, sy tunggu kat luar kelas tu smpai tertdo semata2 tunggu 2nd round

.. kejut2, dh ade pemenang.. hurmm.. anyway, congrats kat 3 org kwn sy tu.. dye mmg layak.. dye dh banggekan f1 sbb ad jugak f2 n f4 yg join tauu..

Kay, that's all for now..
❤ Lotsss of loves,
Cik Rilakkuma..
Older Post | Newer Post
Pretty Princess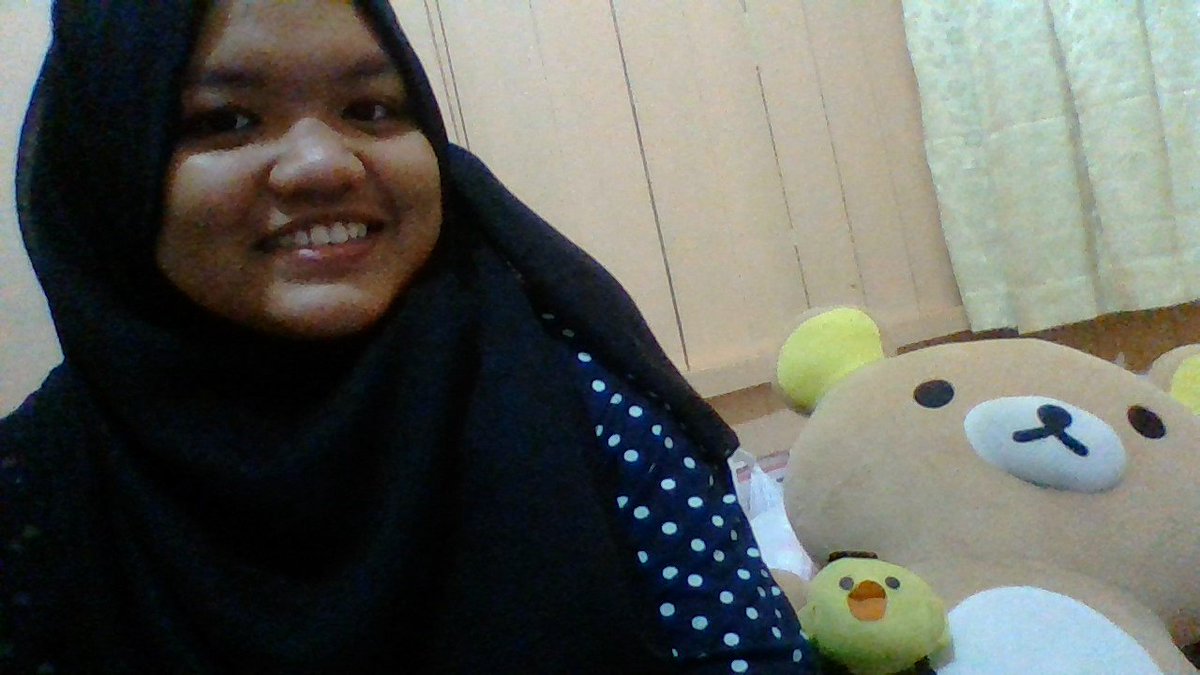 ASSALAMUALAIKUM! Welcome to my simple triple blog,thanks for visiting my blog, nice to meet you, leave your footstep at my cbox ♥(ˆ⌣ˆԅ)

AZLINI | LIMABELAS | TERENGGANU
Do Blogwalking, Do follow
Diary
About
Stuff
Linkies
Do Ask Me
Other Prince & Princess
Princess's statuses..
♥
>> Bought a rilakkuma plushie ,RM81 melayang. happy >,<
♥
>> Done letak wishlist ;)
♥
>> Jalan2 di pantai with abg,kaksa,kakak,abg din, kak fiza n ma
♥
>> Have fun jogging with my friends
♥
>> alhamdulillah banyak nye menang GA
♥
>> Header baruu~ thanks Sarah
♥
>> Yeay! dapat jumpe bestie!
♥
>> Sedih! xleh hang harini.
♥
>> Blogskin baru. Tadaa!
♥
>> I Luv You!
♥
>> Saya blogger newbie!
a BIG thanks to:
Basecode by :
Nadya
and
Qistina
Re.Design :
Miss_Hana
Awesome header from :
Sarah
Own this blog :
Nor Azlini
Best View at GOOGLE CHROME!
saya di sini pd bulan Nov - Dis aje.. start bulan Jan - Okt , sy akn kurang berblogging kerana bz ngan hostel,homeworks,...