9th Math Carnival 2014 @ Mrsm Kuala Krai
Assalamualaikum readers..
Ya Allah. Lamanya tak update. So my last entry was updated bout 3 months ago.
Sangat sangat busy with le hostel life. Well yeah. Budak hostel sejak bila free ? Tell me. But Alhamdulillah so far so good eventho banyak masalah melanda diri ini.
So 1st and foremost, before aku membebel pada entry kali ni, meh aku nak cerita skit pengalaman kat MRSM Kuala Krai, Kelantan.
In the morning, we board the bus :)
form 4 students, form 2 students, and the 15 others..who joined Nadwah.
Maktab hantar 14 org je. 7 org form 2 , 7 org form 4..
Razin, Syahid, Hanzalah, Irfan, Darien, Kamilah, Faezah.
Aied, Harith, Haniff, Me, Raja, Syitah, Muna . :)
For 30th September, nothing much. habiskan masa dari pagi smpai tgh hari..duk dlm bas..
Smpai2,pegi daftar then masuk bilik. Rehat3.. tertdo. smpai petang. x pasal2 kena bebel ngan pakcik Aied malam tu.. sbb sesat , x jumpe dewan. Aishh sabar je lahh. One more, lepas briefing kat dewan mlm tu, pegi jalan2 kat Foodstall. then balik dorm. Siap2 tuka baju tdo,tup2 Aied msej nk jumpe kat ds. Bincang psl esok.. grr.. Sabar sabarr..
Hmm for lower secondary, we had Math Game Tournament (MGT) , Golden Math Challenge (GMC) and OSME ..
7 org form 2 dh separate dri awal lagi.
LS1 - Aied, Haniff, Harith and me. (mcm mne lah aku je girl tersesat dlm grup ni)
LS2 - Muna , Syitah amd Raja
So for these games.. LS2 mmg kne participated themselves for OSME. LS1 ni nk kne separate lg jd 2 group. 2 org - 2 org. Hmm, memandangkan skop2 soalan yg ade dlm GMC tu fakta dan sejarah matematik.. jd aku tarik diri masuk MGT je. haha. Me and Harith. :D Go lahh Aied and Haniff for the GMC.
Oke. Masuk kelas ngan Harith. Sumpah awkward. Xpenah ckp pon ngn dia before, even satu batch..satu block.. hmm. MGT, xde lah susah mane. Syllabus form 1 n form 2. Haha bnde dh belajar. K, lawakkk. Highest common factor pon kau x ingt cam mne nk kire.. Duh.
Times flew too fast. Siap. Then klua. Jumpe others. Hmm. Aied ckp die klua dari dewan mse soalan ke empat sbb careless.. ha! tu lahh pakcik pakcikk.. Haniff? bijak skit.. soalan ke-11. hmm proud ah? Kembang. Dah, habis aktiviti untuk pagi ni. Pegi jalan2 masuk dewan tgk Upper Secondary punye GMC.
Evening. okay petang ni amek chance jalan2 sekitar maktab then selfie skit. Hmm. jalan2 nk elak dari kne bebel ngan pakcik Aied, haha..Malam ni.. hmm workshop olimpiad.. mengantuk. Speaker ajar x fhm satu habuk pon.. Hmm.. tik tok tik tokk..habis pon..jalan2 kat foodstall ah..lapaaa..
Arghhh.. Full of olympiad workshop. In the morning,we had the third workshop..while LS2 were having their computer exam.. then tea break. At 10.30, LS1 went to the PSP for the fourth workshop. LS2? Computer project. 1PM,lunch. Went to the dorm for resting before going to the fifth workshop which is the last workshop. Slept. Haha, Aied text me. Lintang pukang amek tudung ,pkai skinsock..Alahaii pening kepalaaa.. Selsema + batuk2 kne duk dlm aircond. Sambung tdo ah. Sukati je ponteng workshop. Hmm.
Waktu riadah, kuar pegi volleyballcourt. Kne soal pulak ngan pakcik Aied and Harith. hmm. Senyum2 aje lerr jawabnye..
Malam, Olympiad Competition dahh. Org lain pkai school uniform. Kami? haha . Smart casual je. Lol. Pakcik Aied suruh. Haha. 2 jam duk dlm kelas. Naseb baek bukan bawah kipas. Sejuk gile. Sumpah. Makin teruk selsema. Hmm ... Habis exam, pegi foodstall. Jalan2 then balik dorm. Packing2 baju then tido.
Closing ceremony. Berbaju batik. So sad jgk ah dh nk blik. Will miss KK for sure. Lunch then board the bus, bye bye KK. Off to Terengganu. :') Thanks for the memories.
Older Post | Newer Post
Pretty Princess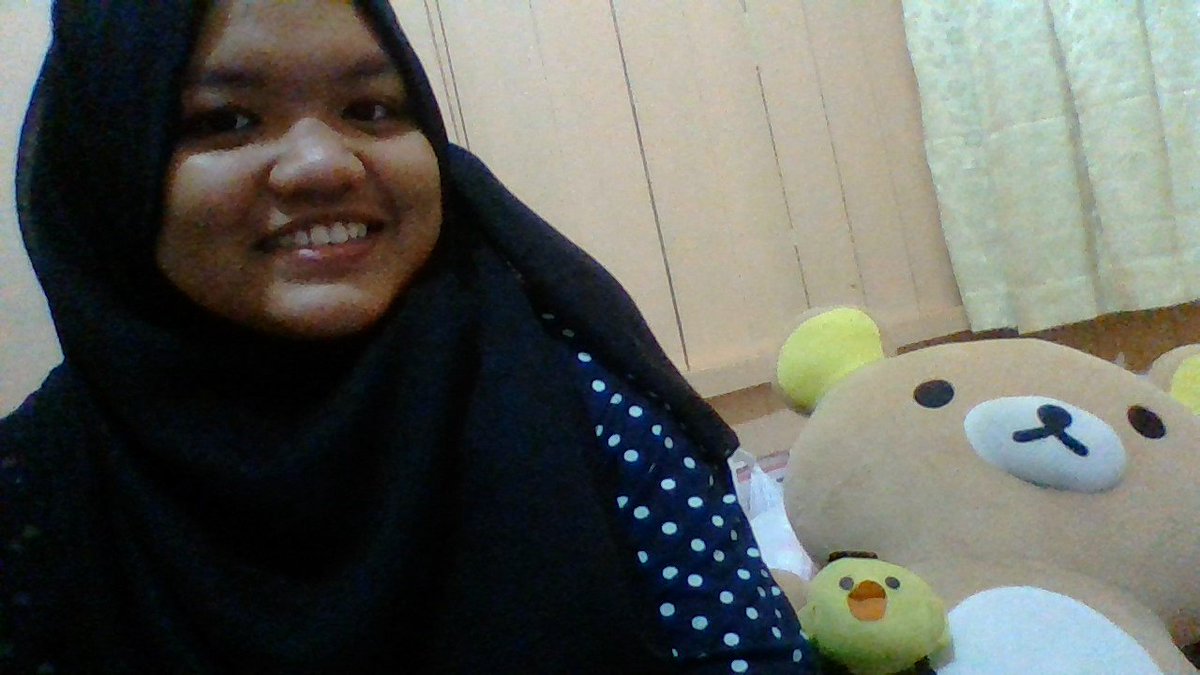 ASSALAMUALAIKUM! Welcome to my simple triple blog,thanks for visiting my blog, nice to meet you, leave your footstep at my cbox ♥(ˆ⌣ˆԅ)

AZLINI | LIMABELAS | TERENGGANU
Do Blogwalking, Do follow
Diary
About
Stuff
Linkies
Do Ask Me
Other Prince & Princess
Princess's statuses..
♥
>> Bought a rilakkuma plushie ,RM81 melayang. happy >,<
♥
>> Done letak wishlist ;)
♥
>> Jalan2 di pantai with abg,kaksa,kakak,abg din, kak fiza n ma
♥
>> Have fun jogging with my friends
♥
>> alhamdulillah banyak nye menang GA
♥
>> Header baruu~ thanks Sarah
♥
>> Yeay! dapat jumpe bestie!
♥
>> Sedih! xleh hang harini.
♥
>> Blogskin baru. Tadaa!
♥
>> I Luv You!
♥
>> Saya blogger newbie!
a BIG thanks to:
Basecode by :
Nadya
and
Qistina
Re.Design :
Miss_Hana
Awesome header from :
Sarah
Own this blog :
Nor Azlini
Best View at GOOGLE CHROME!
saya di sini pd bulan Nov - Dis aje.. start bulan Jan - Okt , sy akn kurang berblogging kerana bz ngan hostel,homeworks,...